So, I have been feeling pretty crummy for awhile now... ever since before the snow trip actually. Yesterday I was sitting at my desk coughing and sniffling and then it hit me: why am I here? Its not like I'm proving anything to anyone by suffering through this, its doctor time! I left work around noon and had the BEST time killing time until my appointment. First I hit Goodwill and got this cute dress and cardigan for Valentines day... for about $6: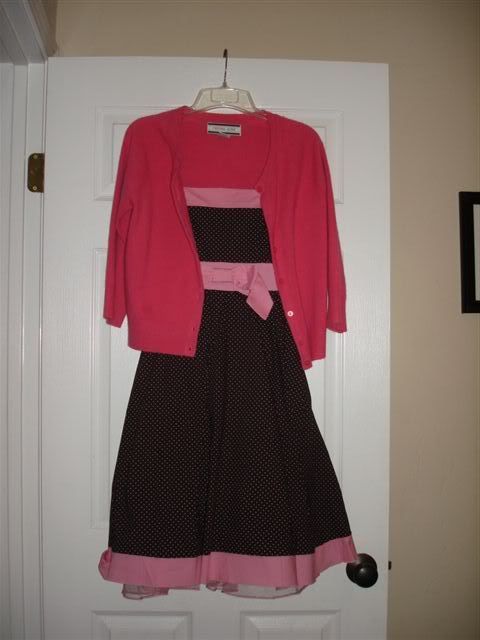 It has really cute detailing on the bottom
I also found this cute 80's-esque shirt for like $2:
front:
back: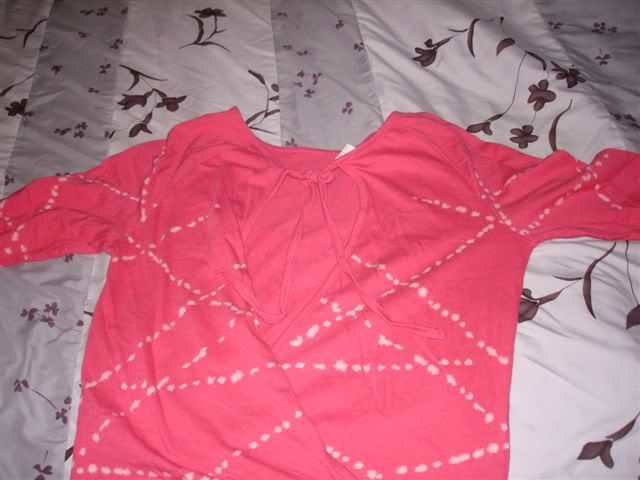 And this big leather purse and wide belt:
Then I hit Target and found all these tights on sale for: $.98!!! And this cute purse on clearance for like 7 bucks: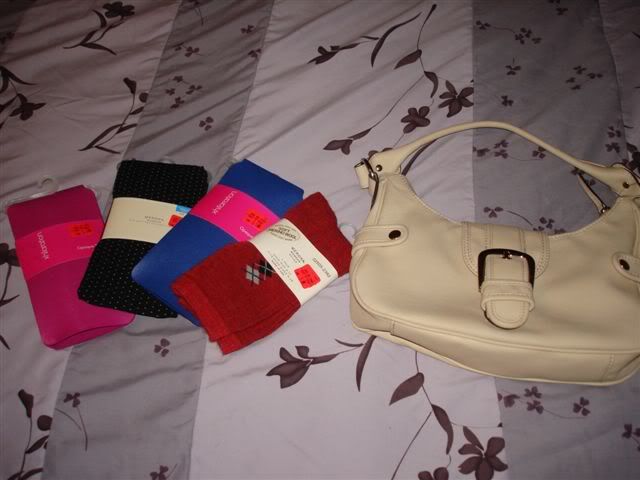 After that I went to the doctor. After waiting in the lobby for AN HOUR AND A HALF I finally got taken to an exam room to be tortured. The doctor took some of those really long cue tips and dipped them in this (horrible, evil, burning) solution and stuck each one about 5 inches up my nose. No joke. I was ready to feel them rubbing on my brain. Then he asked if I wanted a pic on my camera phone. Ooh funny, did they teach that in medical school??? He sent me home with this: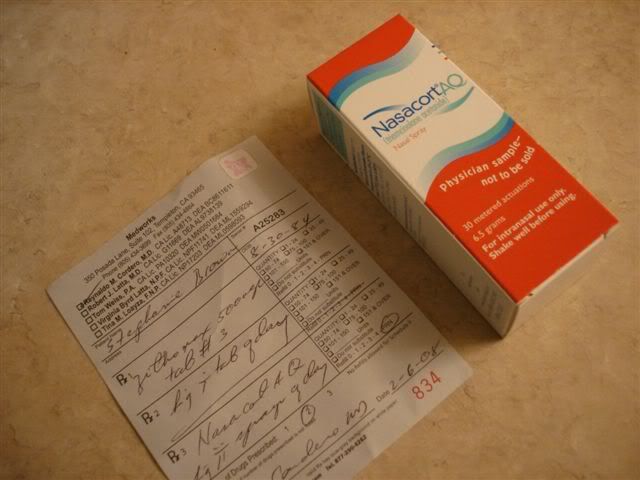 And said something about Hay Fever and Sinusitus. Um, I seriously doubt I have Hay fever but maybe the antibiotics will kill whatever it is I do have. Everyone else at my work has bronchitus so I'm guessing I caught that.
For dinner we had a hamburger and fries substitute... aka Organic pulled lean bbq pork and green beans
It was delicious! I cooked the pork in a croc pot the day before with just onions, pepper, and bbq sauce, then pulled it apart and cooked for one more hour. We had wheat panini rolls from TJ's that I buttered and sprinked a little garlic salt and and broiled till they turned to garlic bread. On one side I put the pulled pork and a little mozarella cheese, and on the other a bit more bbq sauce then toasted in the broiler for another minute or so:
While that was happening I heated up about a tablespoon of peanut oil in a wok and then threw washed green beans into it and sprinkled pepper, a tiny bit of sea salt, and dill on them. After about 30 seconds I put in about 1/3 water and a lid and let it sizzle for a minute or so then turned off the heat.
The result was crunchy, yummy green beans that even Jerad admitted were almost as good as if we had had fries. So, super yummy dinner in seriously under 10 minutes.
Then it was off to Government, or Political Science as they are calling it now. More homework oh goodie.